Since June 1, I've been trying to write about the uprisings/protests/riots happening right now in a clear and thoughtful way.  With anger and sadness, between meetings and work, the words jumbled together in a near stream of consciousness, fragmented and all over the place.   Reading and rereading my written thoughts, I struggle to find the balance between professionalism and honesty, between honesty and unintended (?) consequences.  And yet, it feels profoundly important to write something for this blog during this time.
I am an Asian American woman, daughter of Asian American activists. My father was a part of the Third World Strike at UC Berkeley in 1968/9, when Black, Latinx, and Asian American students came together to demand Ethnic Studies.  My mother, a bit older than my father, marched with Martin Luther King, Jr. My paternal grandparents were incarcerated during WWII at Topaz, Utah.  My paternal grandfather fought in WWII with the 44nd Regimental Battalion made up of Japanese American men.  I am also the wife of a Caucasian man and the mother of two incredible Hapa children. I am a Person of Color.  These uprisings have affected me deeply. 
Monday was a struggle, trying to find the words to adequately describe my feelings while going from meeting to meeting, where the uprisings became the main topic of discussion. I ping ponged between anger and intense grief.  I cried about 3, maybe 4 times.  Cried at the injustice, cried for the strides we haven't made, cried in anger, cried in sadness.  There was also frustration as colleagues reminded our workgroups to make talking about racism a normal part of our conversations.  Such privilege to have to be reminded to make this a normal...
Read more »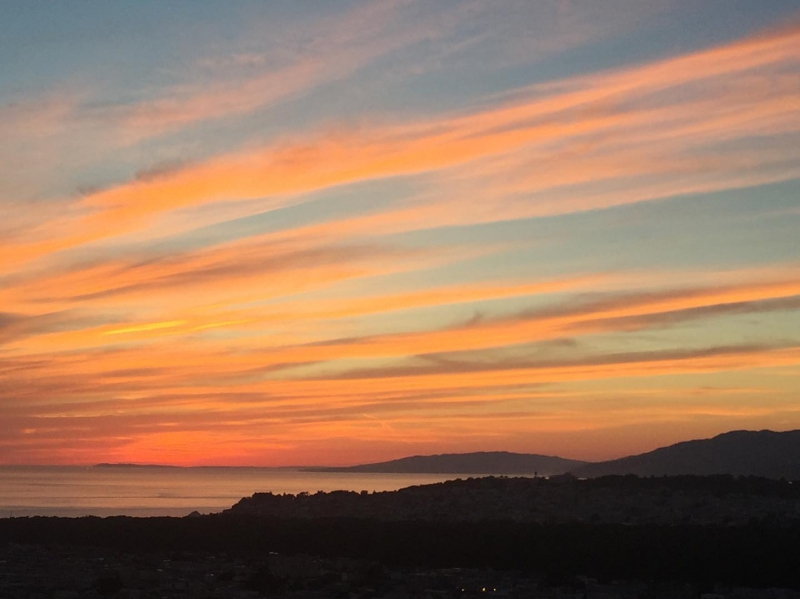 Au revoir April
By Gayle Kojimoto
May 1, 2020
For a minute, the corona cloud splits open
The sun shines through
I see a familiar face
A friend in the fog
Whose voice is beauty wrapped in love
 
By Susan J. Cohen,
Food for Thought participant
 
In San Francisco, more special events, such as the Northern California Cherry Blossom Festival, were cancelled, professional sports are still on hold, and schools are now providing distance learning.  Shelter in Place (SIP) orders have been extended and now we must wear masks while shopping, waiting in lines, riding public transportation, or unable to physically distance ourselves. 
 
Some days it's hard to tune out the uncertainty, chaos, fear, and sadness, to not focus on the losses we're experiencing.  The loss of touch, the loss of normalcy, the loss of life.  Days blend together and it's hard to distinguish one from another.  It's hard to find motivation and to see the light.  I'm calling it Coronavirus Fatigue and I'm sure others are feeling it too.  Dr. Mike Rabow, our director, sent me a post for our blog, co-written by Dr. David Bullard, entitled "Invisible Losses: Secondary Trauma, Survivor's Guilt and Moving Through the COVID-19 Crisis" and it...
Read more »
On Friday, I learned that a friend of the family died of COVID-19.  She (with her husband) was a pillar of the community and my mom volunteered in her business.  She always gave my kids cookies when they would visit and would always buy her small staff, mostly volunteers, lunch when they worked. 
While my feelings of sadness remain the same, her death feels different.  She is the first person I knew personally that has died from COVID-19.  Her death has brought the pandemic home, made it tangible, personal.  And I know this is just the beginning… I wish that knowing this made things less terrifying, but it doesn't.
We're trying to do everything "right": social/physical distancing, hand washing, keeping the kids engaged and on track, trying to encourage others to do the same.  I've tweeted/retweeted/posted COVID articles and #stayhome ad nauseum as if somehow it would prevent or delay the inevitable.  But sadly the inevitable has arrived.  And I knew that it would, while hoping against all odds that it wouldn't. 
Her death won't change my day to day, but it has hammered home a few things:
The importance of taking all the precautions we can to flatten the curve.
 We need to do whatever we can to support & protect our healthcare workers. Their health will be a major factor in how many will people die during the pandemic – and not just from COVID-19.
That we need to find ways to be resilient and sit with grief & loss. Need to make sure those on the frontlines are taking care of themselves mentally, emotionally, & physically. 
We need to have frank discussions with our loved ones about our wishes for care if we are unable to make...
Read more »