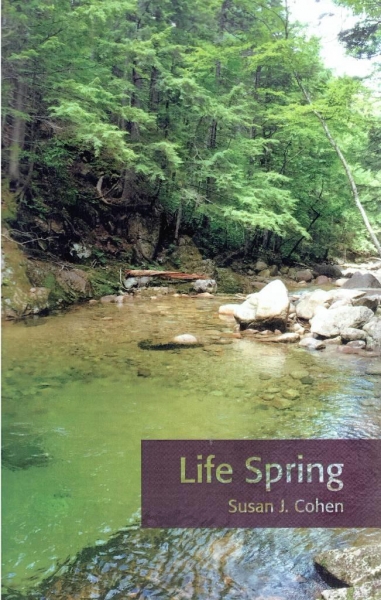 We are pleased to announce that one of our poetic medicine poets, Susan Cohen, has recently published her 3rd book of poetry, Life Spring.  Sue has been attending our Food For Thought Poetry Cafes since day one, April 3, 2020, joining us all the way from Stockholm, Sweden. Sue has joined both Food for Thought and Loss, Losing, and Loosening consistently during the pandemic and has not only shared her incredible poetry with us, she has been incredibly supportive community member.  While the pandemic has been incredibly difficult, meeting Sue and the other poetic medicine regulars has been a blessing.  
You can purchase Sue's book of poetry here or read an exerpt here. I can't wait to read my copy!  I asked her to tell us a little about Life Spring and how our poetic medicine workshops helped her complete this book. 
What inspired you to put the book together?
I had previously written 2 poetry books. I knew it was time to put together Life Spring, the third book when the theme for the book finally became apparent. This theme and many of the poems have arisen during the space and mindfulness of 5 Rhythms dance classes that I participate in here in Stockholm.
What writing it has meant to you?
The...
Read more »
Yesterday morning, Dr. Mike Rabow read "Cargo" by Greg Kimura.  His name sounded familiar so I googled him and realized that he wrote about the 60th Anniversary of the Liberation of Bruyeres by the 442nd Regimental Battalion, made up of Nisei (2nd generation) Japanese American men and my grandfather was one of those men.  Mr. Kimura died in 2017 from cancer and on his Forever Missed page, I found this quote:
Resist the world's numbness,
and your passion revive,
so when death comes to find you,
let him find you alive.

- Greg Kimura
To me, this quote is palliative care in a nutshell.  Let us help you resist the numbness, the pain, the suffering, so you can do what you love, be with those you love, and make the most of the time you have. 
I didn't know Greg Kimura, but I am so grateful to find him in both my personal and professional life, particularly this week as February 19th is the annual Day of Remembrance of the incarceration of Japanese Americans during World War II.  So many threads weave intricate patterns in our lives and sometimes we don't always see them until we look closer.  Thank Mr. Kimura for sharing your gifts with us, the world, my world, most certainly needed them.  You have left an inspiring legacy.
Cargo
by Greg Kimura
You enter life a ship laden with meaning, purpose and gifts
sent to be delivered to a hungry world.
And as much as the world needs your cargo,
you need to give it away.
Everything...
Read more »