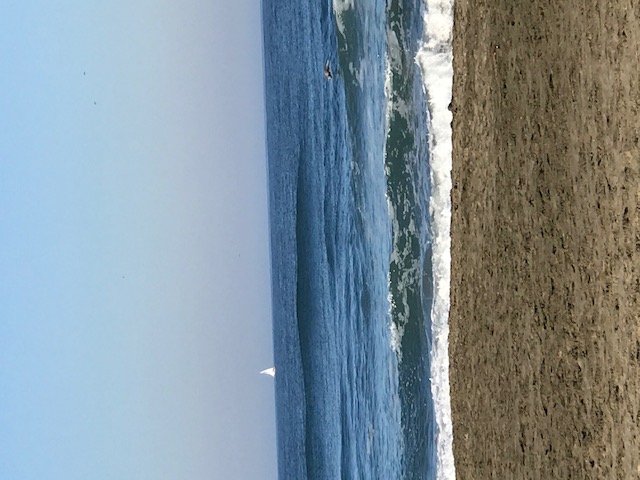 Among all the intense news of the world and the anxiety of our upcoming elections,  October brought with it the light and soft air of Autumn, two Full Moons, (including the Blue Moon which happened on the morning of Halloween) and the book launch of the writings of Merijane Block, in a new book entitled  "Everything Takes Longer Than You Think It Should or Thought it Would, Except for Life."
 Merijane Block is the namesake of the MERI Center—Making Education Relevant and Integrated. On Thursday, Oct 29, the MERI Center hosted a Zoom book launch featuring  readings of Merijane's eloquent and often difficult writings, by many of her close friends. Christopher DeLorenzo and Elizabeth Levitt, along with others, compassionately read through all of Merijane's notebooks after her death in 2017 and put together an exquisite edition of her writings.  The book includes stories of her youth and freedom as a creative, artistic and curious woman of the 1960's and 70's, growing up on the East Coast  through her early life in San Francisco, walking everywhere on her strong "Legs" ( title of a piece in her book), exploring love and life in what came to be "her city,"  and continues through her introduction to her unexpected journey with metastatic breast cancer for 26 years. 
Meri tells us clearly in her poems, "Admonitions for the Uninitiated II" that she did NOT want to be seen as a "warrior," a "fighter," a woman embattled in her own bodily survival. She did not want to be called a "survivor." She always insisted that she be seen as her...
Read more »
THURSDAY, April 16, 2020 is "National Healthcare Decisions Day." The MERI Center has been planning a number of activities for UCSF that now of course, must be postponed. However, the importance of completing Advance Directives for Healthcare has never been more critical. Here and now, in the "time of COVID-19" as we will all remember it well, the necessity of conversations about what we all would want or not want, in terms of medical interventions, is indeed at its peak.  As is the importance of having our wishes in writing for the healthcare system.
Below you will find some basic information and history about Healthcare Decisions day from two of the prominent organizations who have fostered the publicity of this day since its inception.
IF you have not completed your own Advance Directive for Healthcare and would like assistance, please consider the online (or in-person, once that can happen again) "What Matters Most" workshops offered by the MERI Center.
From the Conversation Project:
https://theconversationproject.org/nhdd/
"National Healthcare Decisions Day (NHDD) exists to inspire, educate and empower the public and providers about the importance of advance care planning. NHDD is an initiative to encourage patients to express their wishes regarding healthcare and for providers and facilities to respect those wishes,...
Read more »
Late Fragment  
by Raymond Carver
And did you get what
you wanted from this life, even so?
I did.
And what did you want?
To call myself beloved, to feel myself
beloved on the earth.
"Let us change the face of dying in our culture from one of fear and anxiety to one of acceptance and compassion. Inevitable as death is for all beings, let us work to create experiences that are positive, potent and transformational." 
         (from "Last Acts of Kindness; Lessons for the Living from  the Bedsides of the Dying.")
We ALL will be in positions to be "end of life doulas" at some time--assisting friends and loved ones in the dying process in whatever ways we can.  Our society has known for many years that there would not be enough healthcare professionals or trained homecare attendants to care for the 75 million baby boomers who will be dying over the next 20-30 years. With the "medicalization" of death and dying in the last century (meaning the 20th century), more and more people have died in hospitals or long- term care facilities, despite the fact that most people continue to state that they would prefer to die at home. In numerous studies in the past 10 years, approximately 80% of people surveyed stated their preference to die at home, yet only about 20% actually did.
In 2019, according to a study published in the New England Journal of Medicine, "for the...
Read more »