Reflection on the National Clinicians Conference on Medical Aid in Dying Attendance Sponsored by the MERI Education Scholarship Fund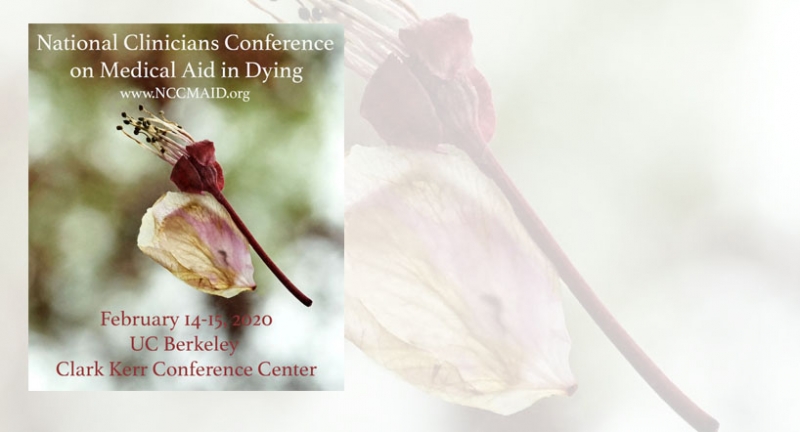 I recently had the opportunity to attend the inaugural National Clinicians Conference on Medical Aid in Dying (NCCMAID) in Berkeley, California, thanks to the generous sponsorship I received from the MERI Education Scholarship Fund in the spring of 2020. As a palliative care physician who cares for seriously ill patients, I found this educational experience to be incredibly rewarding and meaningful. While Medical Aid in Dying (MAID) has been legal in California since 2016, shepherding several of my patients through this process has taught me that we still have a lot of work to do to ensure that patients have equitable access to this service, and that providers can offer this important intervention knowing that we have the support of an effective and efficient institutional process behind us. Attending this conference has enabled me to feel more connected to a nation-wide network of competent and compassionate providers committed to this cause, as well as more comfortable providing this meaningful intervention to my patients who are suffering from terminal illness and strongly wish to pursue this option.
It was a huge privilege to meet so many providers from all over the country who offer MAID to their terminally ill patients, including Dr. Lonny Shavelson and his team. Lonny was the Chair of the NCCMAID conference and is the founding CEO of Bay Area End of Life Options, a medical practice devoted exclusively to the care of patients considering MAID.  Dr. Shavelson and his colleague, Thalia Wolf (RN), moderated several fascinating discussions on various nuanced aspects of offering MAID in our practices. While all of the content was valuable, I really enjoyed the research Dr. Shavelson shared regarding the mechanism of action of MAID medications. His team's painstaking research has enabled them to systematically develop more effective medication combinations that help patients die peacefully and quickly with significantly fewer complications compared to those who received earlier MAID medication regimens. This in-depth look at the data and mechanism of action of each medication has made me feel much more confident in explaining to my patients how each medication works, as well as what loved ones can anticipate after a patient ingests the MAID medications.
Dr. Shavelson's team also presented their technique for efficiently guiding patients through the MAID request process. In its current form, the MAID request process often leads to unintentional but significant gentle resistance from providers, who may not fully understand how to honor a patient's request to pursue consideration of MAID despite their best wishes to do so. Dr. Shavelson shared data demonstrating that most patients wait an average of 5-7 weeks after initiating their first request to pursue MAID due to process inefficiencies and confusion. In the setting of advanced terminal illness, this often unfortunately means that patients die in the waiting period prior to obtaining the medications, despite their fervent wish to pursue MAID. Dr. Shavelson shared his team's approach to maximizing efficiency within the confines of the law, thereby minimizing unnecessary and highly consequential process delays. I now feel much more capable of implementing this efficient process with my own patients who are seeking MAID, thereby minimizing the delays and resistance they might otherwise encounter in this pursuit.
In addition, I really enjoyed a high-impact session on cultural and racial considerations regarding equitable access to MAID. During this discussion, moderators shared that while the majority of non-white respondents polled in national surveys have expressed support for MAID, very few black and Hispanic Americans have pursued this intervention. The panel speakers offered compelling data and testimony suggesting that this is due at least in part to the systematic racism that we know affects quality of care for all non-white individuals in our country, and also highlighted some of the important cultural differences that we as providers need to keep in mind when exploring interest in MAID with patients of color. This session dramatically raised my awareness of my own unconscious biases regarding end-of-life care, and also provided essential tools with which I can more effectively discuss this treatment option with my patients of color. It was my favorite session of the conference, and I heard many other clinicians say the same thing.
Overall, this was an incredibly enriching educational experience that leaves me feeling much more capable and equipped to shepherd my terminally ill patients through the Medical Aid in Dying process if they opt to pursue this intervention. I am so grateful to the MERI Education Scholarship Fund team for enthusiastically supporting my continuing medical education on this topic, and I look forward to also sharing what I learned in a formal context with my colleagues in the Division of Palliative Medicine!